* We sometimes use affiliate links, so we may receive a commission, at no cost to you, if you make a purchase through a link. Check our disclosure for more info.
This Clean eating Mac and Cheese recipe is a family classic that shows up regularly in our house. Before we started eating clean, I would buy those nasty boxes of mac 'n cheese from the Supermarket. The 'just add one ingredient' type. It was a quick meal that everyone loved, so it was also one of the first meals that I decided to remake using real ingredients. And I'm SO glad I did. This is not only healthier and made with Real food ingredients, but it tastes so much better.
Grab the FREE 18 Meal Ideas CHEAT SHEET Here!
Clean Mac And Cheese
This Clean Eating Mac 'n Cheese doesn't take much more time to make than the nasty variety, but, let's be honest, you don't want to be feeding your family that other stuff anyway, plus it keeps beautifully for school lunch boxes the next day too – if there is any left for the next day. I recommend making a double batch for next day leftovers: This goes pretty quick!
If you haven't ever made a white sauce from scratch (Classic Bechamel Sauce), I promise you it's not hard, just daunting when you've never done it. There is a bit of life lesson involved in making a sauce using a butter and flour roux that I think every cook should know just because you can use the roux base for so many other sauces.
White Sauce For Mac And Cheese
The first time I attempted this, I thought I had messed up – badly. I added my milk to my butter and flour mix then it happened. The white sauce turned into play dough in a couple of seconds. I ended up throwing it away, only to have the same thing happen in Attempt 2 and 3 and 4 … and then I phoned my Mom.
So, this is how I do it now. It's easy, fast, and once you get the hang of it, hard to mess up :)
Put equal amounts of flour and butter in a pan, butter first, then the flour once the butters gently melted
Keep the heat low, enough to melt the butter but not enough to burn it
mix the butter and flour together until you have the 'roux'. If it looks like a shiny, doughy kind of mess, you've done it right
You want to cook this for a couple of minutes. This is so you don't get a floury taste in the sauce
Heat your milk (quantities in recipe below) so it's not fridge cold, and then add it gradually, a little at a time, and whisk it into the roux. This sauce thickens fast. You need to keep whisking!
Add the shredded cheese and keep whisking. As the cheese melts the sauce will thicken even more
Once you've reached the sauce thickness you want, take the pan off the heat, and your sauce is ready
Grab the FREE 18 Meal Ideas CHEAT SHEET Here!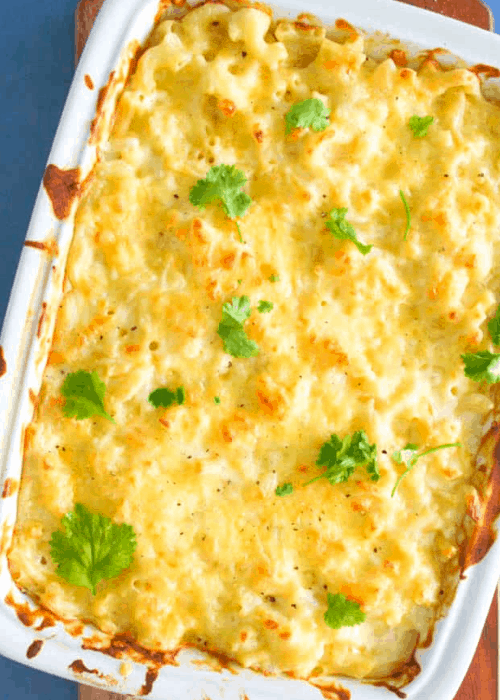 What To Eat With Mac And Cheese
We eat Mac 'n Cheese with a green salad. Sometimes I might jazz the salad up with whatever I happen to have in the fridge, but Mac and Cheese is quite filling, and so you really only need something light. If you think you need something more substantial, you could try one (or two!) of these sides:
I've also made this with a few additions over the years. You could add in:
Cauliflower – I cook the cauliflower until slightly undercooked and add it to the Mac 'n cheese before it goes into the oven. You end up with a cauliflowery cheesy plate of deliciousness
Crispy bacon – Scatter some pan fried crispy bacon on top of your Mac 'n Cheese a couple of minutes before it comes out of the oven, I just use enough to give it some bacon flavor!
Grab the FREE 18 Meal Ideas CHEAT SHEET Here!
Making Ahead
This is an easy make ahead dish. Prepare the whole thing cover it with food wrap and put it in the fridge until you're ready to put it in the oven.
The cheese sauce hardens quite a lot (as the cheese and butter sets) when you put this in the fridge or even just let it cool down, but loosens and reheats beautifully as soon as you reheat it.
Storing And Reheating
If you've made this ahead and have kept it in the fridge, just cook this in the oven and carry on from the point you left off in the recipe. If this is coming straight from the fridge, I tend to put it in the oven as soon as I turn the oven on, so the dish gently heats up with the oven.
If you're reheating leftovers, you can either blast them in the microwave for 90 seconds, mix, and give them another 90 seconds, or you can put them back into the oven until they're warmed through.
You can also eat this cold. Yes, the sauce will be thicker, but hey, the taste's amazing even when cold :)
More Clean Eating Classic Dinner Recipes
Clean Eating Mac And Cheese Recipe
Clean Eating Mac And Cheese
Cheesy sauce over pasta, with a crispy cheese top. It's a Clean version of an old classic.
Ingredients
Ingredients Cheese Sauce:
5

tablespoons

butter

4

tablespoons

all-purpose flour

4

cups

milk

1

teaspoon

salt

1

cup

grated cheddar cheese

1

bag of Macaroni

I use dried Organic wholewheat Macaroni

½

cup

of grated cheese to sprinkle on top.
Instructions
Preheat your oven to 180 degrees Celsius / 320 degrees Fahrenheit.

Boil your macaroni until slightly under cooked. The pasta should be a little chewy. Drain and set aside.

Cheese Sauce: In a heavy saucepan, heat the butter over medium-low heat until melted. Add the flour and stir until smooth paste is formed. Cook for about 5 – 6 minutes until the mixture turns a light, sandy color.

Slowly add milk to the butter mixture 1 cup at a time, whisking continuously until very smooth. The sauce till thicken instantly when you add your milk. Just keep whisking.

Bring to a boil. Cook 10 minutes, stirring constantly, then remove from heat.

Season with salt and add your cheese, stirring slowly until the cheese has melted into the sauce.

Add your cooked macaroni to the sauce and mix together. Spoon the macaroni and cheese into an oven proof dish and sprinkle with cheese on top.

Bake in the oven for around 10 min until the cheese is golden brown on top.

Serve with a fresh salad.
Recent Posts