* We sometimes use affiliate links, so we may receive a commission, at no cost to you, if you make a purchase through a link. Check our disclosure for more info.
Pasta is always a hit at dinner time and this creamy mushroom Fettuccine recipe is no exception. It's crazy easy to whip up, uses only 4 ingredients (plus a few store cupboard staples) and makes great leftovers for lunch the next day too.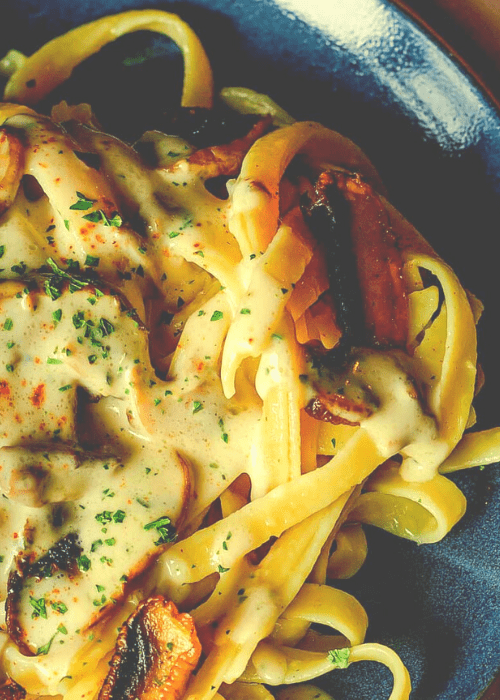 Grab the FREE 18 Meal Ideas CHEAT SHEET Here!
Creamy Mushroom Fettuccine
Creamy Mushroom Fettuccine sounds a lot fancier than it is. Don't be fooled by the name. This is an easy option for busy weeknight meal and I think one of the best recipes I have if you're looking to introduce mushrooms to a 'mushroom averse' child.
I normally use dried wholewheat Fettuccine but if they don't have it in stock (like this week), I opt for standard organic pasta. Either is fine to use and doesn't change the deliciousness of the recipe.
You can leave out the wholegrain mustard, but I think this is what makes this dish a little special and ups the taste game. The recipe requires very few ingredients, and the mustard flavor is mild. In our house I serve it with a quick salad and wholewheat garlic bread.
Mushroom and Mustard Fettuccine Sauce
The sauce for this Fettuccine is my simple, Clean eating mushroom sauce. While it's true, we have this mushroom sauce on everything, it's especially good through pasta. The cream clings to the Fettuccine strands and coats it, turning it into a creamy bowl of quick and easy yumminess.
If I'm at the shops and have a choice, the mushrooms I prefer for the bulk of the sauce are Portobello, mini ones if possible. They have a really rich flavor and add to the sauce. I also like to add one or two different mushrooms, of whatever's available. Chestnut mushrooms are good if you can find them near you.
This sauce is a great way to use any left over mushrooms you've got in your fridge, I use mushrooms all the time in cooking and love them, so people sometimes give me mushrooms they've grown. If they're a variety the kids haven't seen before they can be a little prickly about trying them, so this sauce is perfect for getting the kids to eat new (to them!) mushroom varieties.
Leftovers
Should you find yourself the rather envious position of having leftovers of this dish, just cover them in a food wrap and pop them in the fridge. The sauce will thicken because of the cream, but this will loosen when you reheat it. You can keep these leftovers in the fridge for 48 hours.
To reheat, I put the leftovers into a larger microwavable dish (so the Fettuccine is in the thinner layer, rather than a pile!) and give it a minute at a time, stirring it after each minute, until it's reheated all the way through.
You can also out this back in a pan on the cooker top and reheat it this way. Make sure to stir it as it's reheating so it doesn't stick to the pan.
Grab the FREE 18 Meal Ideas CHEAT SHEET Here!
Freezing cooked Fettuccine & Making Ahead
You can also freeze this dish: always good news :) Put your left overs, or a complete dish if you're making ahead, into a freezer-to-oven glass dish like this one. Make the meal as per the recipe and then transfer to your dish, let the Fettuccine cool right down and then cover and store in the freezer, flat.
I write the dates on everything in the freezer. Every single time, I think i'll remember when it went in and every single time, I forget. You can use removable food labels (avoids having to soak the dish to get the sticky off!) or simply get a marker pan and write the date on a sticky label and pop it on the top.
This will live happily in the freezer for up to 4 weeks. Defrost fully before reheating this. To reheat it, cover it in foil and pop in into the oven until heated through, stirring it half way through heating. Or put it into a pan again and reheat on the stove top whilst stirring.
Clean Eating Fettuccine Recipes
How To Make Creamy Mushroom Fettuccine
Creamy Mushroom Fettuccine
Ingredients
Fettuccine

Wholemeal, Organic

1

Tablespoon

Butter

2

Cups

Sliced mushrooms

1½

Cups

Fresh cream

1

teaspoon

wholegrain mustard

Sea Salt

Black Pepper
Instructions
Boil a large pot of water on the stove. Add Pasta and cook for 8 -10 minutes until soft. Drain and set aside. Add salt and a little olive oil to prevent sticking.

Heat up a pan on the stove. Add butter and mushrooms. Fry until mushroom juices have evaporated and mushrooms begin to brown. Add cream, mustard and salt and pepper. Allow to simmer for 5 minutes until cream has reduced and sauce thickens.

Remove from heat and stir through pasta.

OPTIONAL: We add chilli flakes or peppercorns for a little hot kick.
Recent posts