* We sometimes use affiliate links, so we may receive a commission, at no cost to you, if you make a purchase through a link. Check our disclosure for more info.
Scrambled eggs for kids is one of favourite breakfast meals to serve my lot.
As you may know, I keep a couple of gorgeous Chooks in my backyard. My Girls provide me with around 10 – 12 eggs a week so I like to make sure I use them up.
All of my children love scrambled eggs on toast. It is a tasty breakfast as well as a fast last minute dinner. It is such a quick and easy meal that it even suits busy school day mornings. I scramble the eggs whilst the toast is cooking.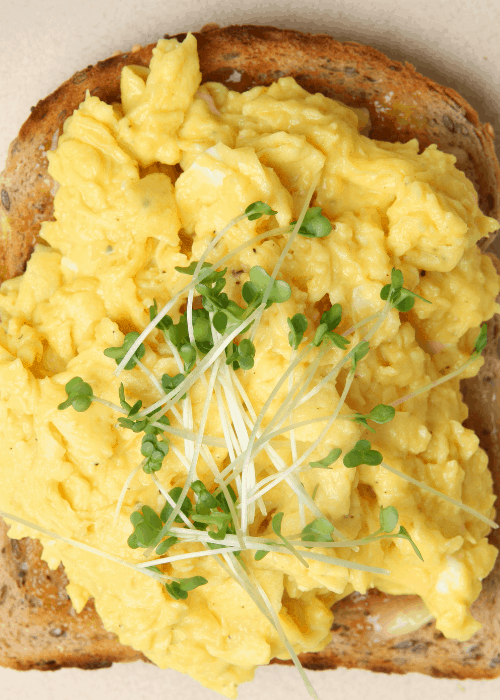 Grab the FREE 18 Meal Ideas CHEAT SHEET Here!
A Healthy Breakfast With Eggs And Toast
This is such a simple, healthy breakfast and is like the nones I used to have as a little kid, when I was blissfully unaware of supermarket shelves shacked floor to ceiling with sugary cereals aimed at kids!
This literally takes only a couple of minutes longer than it does to pour cereal out of a packet and grab the milk. And it's delicious. I'd forgotten just how delicious this was actually, and now we have this all the time.
There's so many breakfasts with eggs, you're spoilt for choice if you're an egg lover, yet despite all the new, fancy trendy cafe breakfasts with eggs they come up with, scrambled eggs on toast remains a firm favorite!
Eggs And Whole Wheat Toast
This is a pretty decent breakfast to start, right? Swap your usual bread for Wholegrain, or Rye and you've improved it even more.
Grab the FREE 18 Meal Ideas CHEAT SHEET Here!
What Goes With Eggs?
You can easily turn this breakfast into a bigger breakfast, something worthy of being called a Weekend Breakfast!
You could add some/all of the following and have yourself an awesome brunch!
Couple Few Tips To Keep It Simple
Here's a few pointers when introducing this breakfast:
We have one of those four slice toasters, so all four of my children are served at the same time.
For fast clean up, I recommend investing in a non stick pan. When we went camping last week, I left mine at home and got to experience scrubbing a sticky eggy pan all over again. I really love my non stick pan!
When I give this meal to my smaller kids (6 year old and 7 years old), I cut up the toast into bite sized squares and lay the egg on top. Kids are then able to use a knife and fork to easily eat their meal 'like a big kid' as they only need to cut the egg. My bigger kids started making scrambled eggs for themselves around 11yrs of age. It's a perfect 'first meal' for them to make on their own.
More Clean eating breakfasts
Scrambled Eggs For Kids Recipe
Scrambled eggs for kids
Hot scrambled eggs on Wholemeal toast, it's a great, easy breakfast that keeps you going until lunch!
Ingredients
4

Eggs

As fresh as possible

¼

tsp

Butter

Pinch

Salt

To taste

2

slices

Wholegrain toast

Toasted
Instructions
Melt butter in a  Non Stick Pan

Crack eggs into a bowl and whisk until well blended

Stir regularly until egg is cooked through

Serve with hot, buttered wholegrain toast
Recent posts