* We sometimes use affiliate links, so we may receive a commission, at no cost to you, if you make a purchase through a link. Check our disclosure for more info.
An all in one breakfast casserole with a hash brown potato base, a bucket load of spinach, crispy bacon bits and protein rich cottage cheese. My kids stand in line waiting for this to come out of the oven.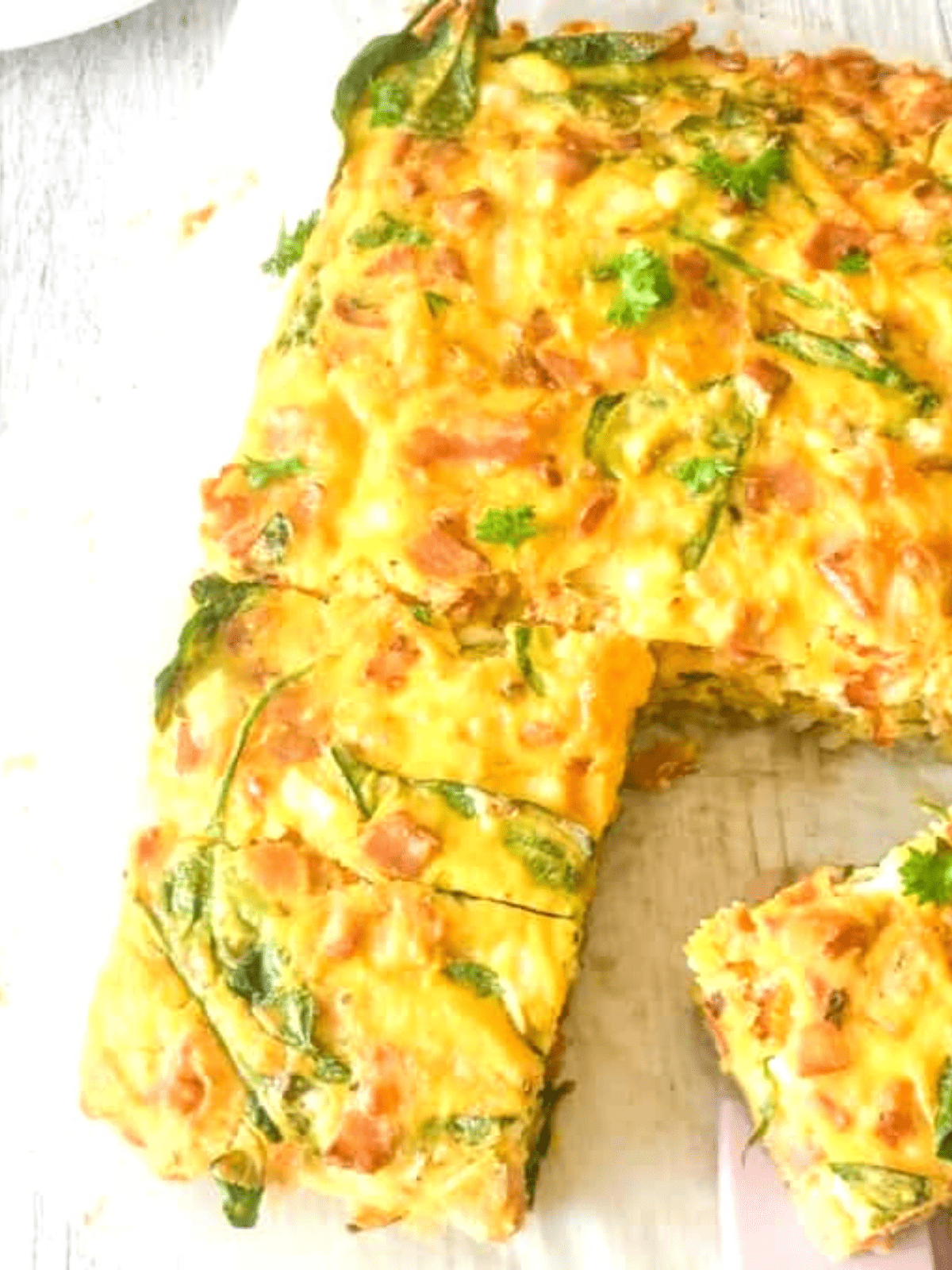 Grab the FREE 18 Meal Ideas CHEAT SHEET Here!
Spinach and Bacon Breakfast Casserole
I love Casseroles. Specially the dump and bake kind of casseroles.
Recipes like this one cut the time I spend in the kitchen in half. I prep and walk away – letting my trusty oven do all the work.  After you've tried this breakfast casserole recipe, then give this super easy oven baked Italian Chicken Recipe a go for an easy dinner this evening. 
I've added a hash brown base to the recipe, but if you are rushed for time, feel free to leave it out.
The potato doesn't go really crispy, but rather a baked potato kind of base – a little like a cheesy Rosti. The reason I think it's worth the extra effort is that it makes the meal a lot more satisfying.
My Teens are always hungry, so that extra potato bit keeps them fuller for longer.
We don't miss breakfast in our home. Sometimes it's something simple, like a quick breakfast smoothie or a grab and run kind of breakfast (which we can eat in the car while we chase down the school bus), but we always eat breakfast.
Our breakfast choices generally fall into one of these 5 categories:
Clean Breakfast Casserole
If you want something healthy, made with Real food and is easy peasy to get prepped with layers of yumminess, this might well be the casserole for you. One of the best things about a recipe like this is that you can add pretty much anything you like.
The egg mixture and the cheddar cheese set the casserole and so what you add in is really up to you. I've made this one with the classic breakfast type foods, bacon, hash browns etc…and then added in some baby spinach, and the result is a delicious breakfast come brunch type thing.
Egg casseroles are brilliant for breakfast, in fact they might just be one of our favorite types of breakfast with it's golden brown cheese top. If you have a casserole dish, get cooking!
It's cheesy so the kids love it, it's easy to eat and it's faff free. Perfect :)
More Clean Eating Breakfasts
How Far Ahead Can You Make A Casserole?
Short of time in the mornings? I hear ya! This is great if you want something to have already cooked and waiting in the fridge to be eaten.
To reheat this breakfast casserole, although it's also pretty yummy eaten cold, you can pop it into the microwave for a couple of minutes until it's heated all the way through. It will be slightly looser when you heat it as the cheese starts to melt again, and of course firmer when it's been in the fridge.
Storing
Once this is cooked and it's cooled down to room temperature you can store it in the fridge. Cover it with a little plastic wrap and it's good to stay there for up to 3 days. I like to leave this until it's fridge cold before cutting it so it's firmer and you get a good clean cut.
Why Stop At Breakfast?
This recipe makes a great lunch or easy dinner option too. Serve it hot or cold with a little side salad. Pack it up for the kids lunch, it's easy to eat cold as a full of flavor finger food and it'll keep them going for hours as it's a protein heavy recipe.
How To Make This Spinach, Bacon & Hash Brown Breakfast Casserole
Ingredients
Potato Hash Base
3 Cups Peeled and grated potato
1 tsp olive oil
½ Cup Grated cheese this is optional
Filling
½ Cup Bacon Cooked, diced bacon (about 6 rashers)
1 Small Onion Diced
6 Free range eggs
1 Cup Cottage cheese Full fat
1/3 Cup Plain flour
½ tsp Baking powder
¼ teaspoon Salt
Black pepper
2 Cups Fresh spinach leaves (this wilts down to not more than a few tablespoons)
Instructions
Hash Brown Base
Heat up the oven to 200c or 400f
Peel and grate 3 medium sized potatoes. Stir in ½ cup grated cheese and a little salt and pepper to taste
Press down into a baking dish lined with baking paper (or well greased with olive oil)
Bake for 25 minutes until golden. Remove from oven to add filling
Make the Egg Filling
Heat a large skillet on the stove top and add your bacon. Fry until crispy on a medium heat. Remove from pan and drain away oil. Keep one spoon for frying onion
Add diced onion and a spoon of bacon fat to the pan. Fry until softened. Remove from pan
In a large bowl: add 6 eggs and whisk well
Stir in cottage cheese
Add bacon, onion, flour, baking powder and stir to combine
Fold in fresh spinach leaves
Pour egg mix onto cooked potato hash base
Sprinkle a little extra cheese on the top (optional)
Reduce oven temp to 180c 0r 350f and Bake for 25 minutes until golden
Allow to cool slightly before cutting into slices to serve
Spinach, Bacon & Hash Brown Breakfast Casserole Recipe
Spinach, Bacon & Hash brown Breakfast Casserole
An all in one breakfast casserole with a baked potato base, a bucket load of spinach, crispy bacon bits and protein rich cottage cheese. My kids stand in line waiting for this to come out of the oven.
Ingredients
Potato Hash Base
3

Cups

Peeled and grated potato

1

tsp

olive oil

½

Cup

Grated cheese

this is optional
Filling
½

Cup

Bacon

Cooked, diced bacon (about 6 rashers)

1

Small

Onion

Diced

6

Free range eggs

1

Cup

Cottage cheese

Full fat

1/3

Cup

Plain flour

½

tsp

Baking powder

¼

tsp

Salt

Black pepper

2

Cups

Fresh spinach leaves
Instructions
Hash Brown Base

Heat up the oven to 200c or 400f

Peel and grate 3 medium sized potatoes. Stir in ½ cup grated cheese and a little salt and pepper to taste

Press down into a baking tray lined with baking paper (or well greased with olive oil)

Bake for 25 minutes until golden. Remove from oven to add filling

Make the Egg Filling

Heat a pan on the stove top and add your bacon. Fry until crispy. Remove from pan and drain away oil. Keep one spoon for frying onion

Add diced onion and a spoon of bacon fat to the pan. Fry until softened. Remove from pan

In a large mixing bowl: add 6 eggs and whisk well

Add bacon, onion, flour, baking powder and stir to combine

Fold in fresh spinach leaves

Pour egg mix onto cooked potato hash base

Reduce oven temp to 180c 0r 350f and Bake for 25 minutes until golden

Allow to cool slightly before cutting into slices to serve