* We sometimes use affiliate links, so we may receive a commission, at no cost to you, if you make a purchase through a link. Check our disclosure for more info.
These healthy desserts for kids show just how good pudding can be on a Real food, Clean eating diet. You don't have to skip dessert when you're Clean eating. Yay :)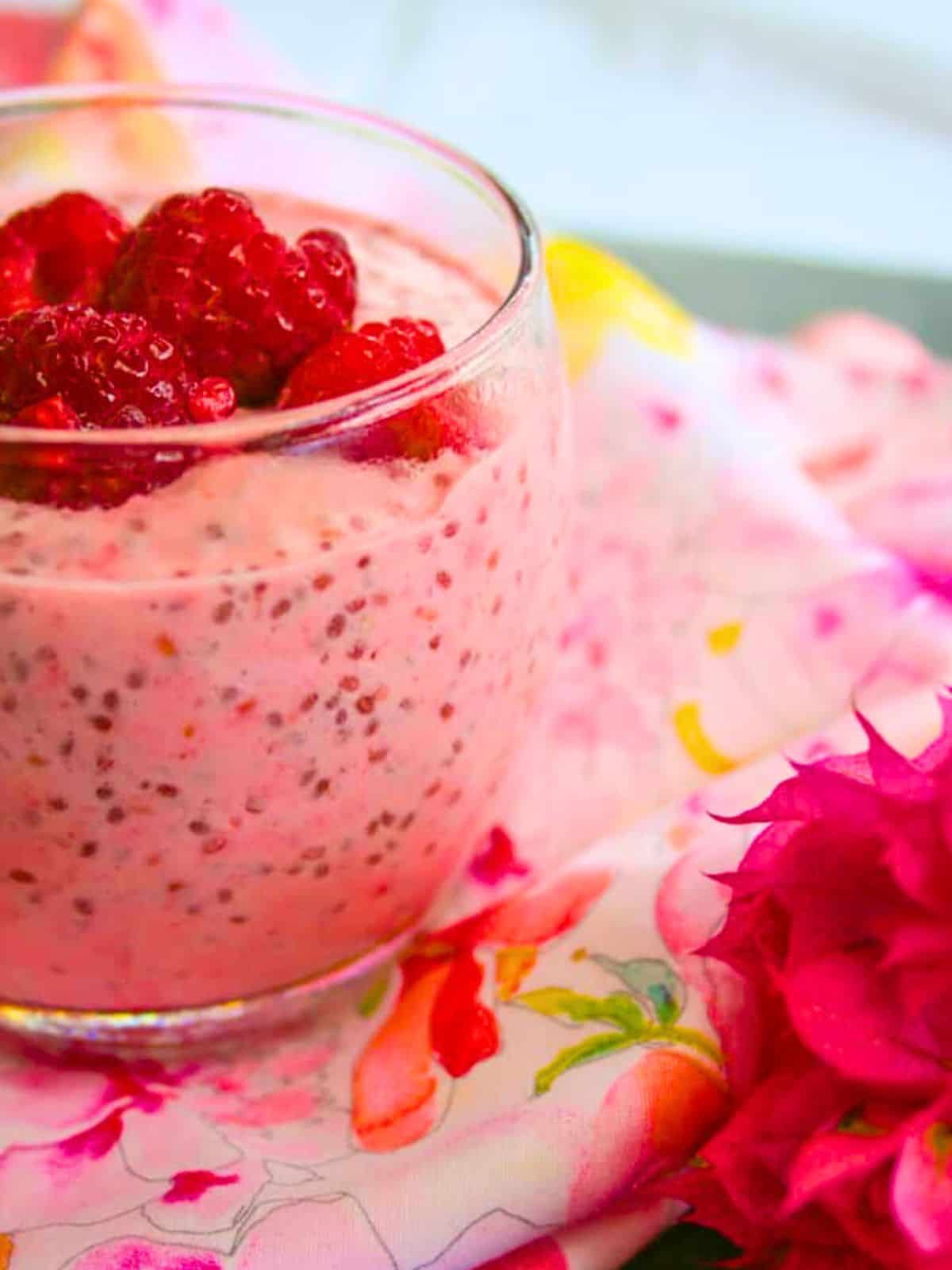 Grab the FREE 18 Meal Ideas CHEAT SHEET Here!
Healthy Desserts For Kids
Not skipping dessert can be the difference between making eating Clean sustainable and not being able to make it a long term thing. For us, it's that simple.
There was no way either my family or I would have been able to kiss goodbye to a pudding every now and again when we over hauled our diets. And we didn't have to. Neither did we quit sugar. We simply changed the processed, chemically sweeteners for natural sugar alternatives, and you can see which ones I use in my recipes here.
You'll find that for many desserts, with a little thought, you can recreate a Cleaner, healthier version that the kids will hardly notice has been 'cleaned up'.
More Clean Eating Healthy Puddings
Is Pudding Healthy?
Kids desserts can be healthy.
Pudding is something we often associate with indulgence but it can be a healthy addition to your diet. When you start to look at it from a homemade point of view, and think about the ingredients, it can be a big part of getting some goodness into the kids.
The 'key' lies in the ingredients used and the portion sizes the kiddos are eating.
Traditional store-bought puddings often contain high amounts of processed sugars, artificial flavors, and preservatives. All the things we want to avoid. However, homemade puddings made with Real, Whole Food ingredients and can actually give us a way to sneak some extra nutrients.
Grab the FREE 18 Meal Ideas CHEAT SHEET Here!
That said, you also want the dessert to be yummy. And it's easier than you think to get this right.
Puddings made from scratch with ingredients like ripe bananas, avocados, walnuts for crunch, raisins or chia seeds can provide essential nutrients like fibre, healthy fats and proteins. Sweetening your puddings with natural sweeteners like honey or dates can reduce the refined sugar content significantly. And you can always add some sprinkles for added kid friendliness!
Using milk alternatives like almond or oat milk can cater to those of us wanting to reduce dairy, while also adding to the nutrients.
Adding fruits, nuts and seeds as toppings can add to the goodness of the pudding. These ingredients not only add texture and flavor but also provide additional vitamins, minerals, and antioxidants. And I take that as a win :)
Why Homemade Desserts Are Healthier
Homemade desserts have a big health advantage over their store-bought equivalents in terms of health benefits: You get to chose what's going in!
When you make healthy desserts at home, you control the quality and quantity of ingredients used. This means you can opt for fresh, organic and nutrient-dense ingredients.
You get to limit the use of unhealthy things like processed sugars, unhealthy fats and artificial additives which are often found in ready prepared desserts. You can replace white sugar with healthier alternatives like honey, maple syrup or dates, and use whole grains instead of refined flours.
Using peanut butter, cinnamon and other favourite flavors keeps puddings tasting good. You can make pancakes (pancake mixture is not just for breakfast!), ice cream, favorite fruit crumbles (like this peaches cobbler). Most things you might have bought before you started eating Clean can be recreated at home.
We've got our favorites down to a tee and we eat them often. I'm mindful of how much pudding the kids have, but they definitely have them, and they're a big part of making Clean eating work for us.
Healthy Dessert Recipes
These recipes below are healthier versions of the puddings you'll likely already be familiar with. Enjoy :)
Grab yourself a brownie pan and make this Clean eating chocolate brownie It's all the things you want a brownie to be: It's gooey, rich and super chocolatey.
The processed sugars you find in regular chocolate brownies have been replaced with date paste and ground Almond flour keeps these little beauties deliciously moist.
These are far better than store bought brownies. I cannot imagine a single kid complaining about being given one of these!
This is a decadent Real food dessert, summery and sweet. If you love strawberries, this is for you!
This uses fresh cream and ripe Strawberry's as it's base, and sets beautifully into a classic summer pudding in the fridge.
You can change the fruit to any you have, or prefer, and you'll get a Clean, yummy pudding everyone loves.
Who doesn't love Apple Crumble? This is a super popular dessert in this house and one that's made maybe slightly too often. With added berries you get more fruit variety and if your kids are anything like mine, a crumble on anything is generally a good thing.
It's proper comfort food at its best and this Cleaned up healthier version is no exception. Using Maple syrup and coconut sugar in moderation keep this sweet, and we serve this with custard (see recipe below) or fresh cream. Either way, totally delicious!
This dairy free Clean eating custard is perfect with the Apple Berry Crumble above, or pretty much anything else!
It's really very easy to make, takes only minutes and at only 96 Calories a serve you can pour it over homemade apple crumble for the ultimate, guilt free dessert.
This classic French recipe is creamy and smooth, and this Clean eating recipe skips the heavy cream.
Use these tricks to get a silky smooth Brulee, and you'd never know this delicious recipe has been 'Cleaned' up.
Clean Treat Dessert Recipes
Not only do you not have to go without dessert, but there's alternatives and healthier versions of so many treats and snacks as well.
Here's some more Clean treats recipes that'll help get the kids eating a little healthier: