* We sometimes use affiliate links, so we may receive a commission, at no cost to you, if you make a purchase through a link. Check our disclosure for more info.
These super fast Fajitas for fussy eaters have been named this in our house because of the mild Fajita seasoning I use with them, as well as the slow cooked, extra soft sweet onions that this recipe uses.
Two of the kiddos are a little sensitive to spice, so I tend to keep things mild. If yours are good with and like spice, you could give this a little more kick by using a stronger chilli powder (see seasoning mix below). However. for fussy eaters the world over, this recipe gives you delicious Fajitas even picky eater kids love!
Grab the FREE 18 Meal Ideas CHEAT SHEET Here!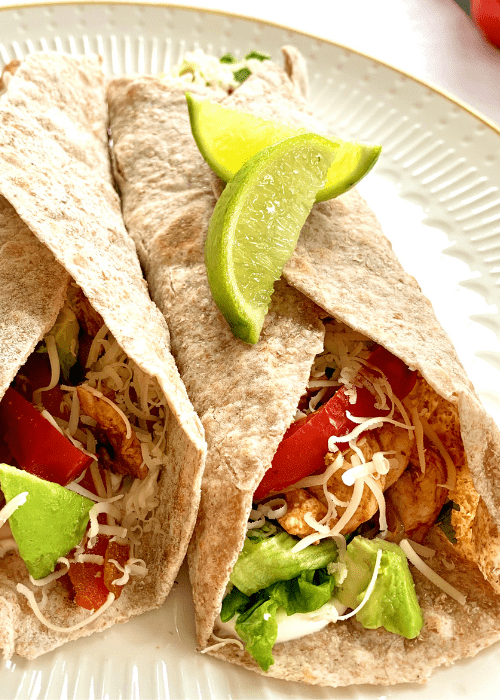 Fajitas for kids
Fajitas are an awesome mid week meal.
They're easy, fast and healthy, and on top of that the kids go crazy over meals they can put-together themselves. So for this, I give them the basics (tortilla and filling) and then let them add their own toppings, which generally involve grated cheese, sour cream, avocado, lettuce and salsa.
I also like to make this when the kids have friends over. It's a crowd pleaser meal, easy to make in large batches and doesn't take any time at all. And because of the mild Fajita seasoning, everyone loves them.
Grab the FREE 18 Meal Ideas CHEAT SHEET Here!
Mild Fajita Seasoning
There are loads of Fajita seasoning packets you can buy in stores, and before our Clean eating journey, this is what I would have gone for. BUT……I had no idea how easy it is to create your own Fajita seasoning, and as with this recipe, you can adjust the spices to suit yours and the kids tastes.
The spice mix for this recipe is below, but it's mild. This is the mild chilli powder I use. If you'd like the heat turned up a touch, feel free to replace the mild chilli powder I use with a stronger one.
What Can You Serve With Fajitas
I give the kids the tortilla and the filling, and then let them load up their Fajitas with a selection of the following. I do attempt to put some sort of limit on the cheddar cheese or one of mine would turn this meal into a Cheese Wrap with a side of Fajita, but other than that, it's all good!
In terms of a side dish for Fajitas, I don't really put anything else out, as it all goes inside the Fajita. If you wanted to, you could make a tomato and cucumber salad, or this Mexican fried rice, both would make a good side dish for this recipe.
Fajita Leftovers
I love left overs, really I do.
It seems like a no brainer to me that if you're cooking the night before, make more and have it the next day. I often recreate it into something else and packed up and send it to school, work, the fridge, wherever, but as someone who likes cooking but doesn't love spending hours and hours in the kitchen, leftovers more often that not form part of the following days lunch.
Fajitas lend themselves beautifully to this. If you've got some wraps left, you could just have Fajitas again. The Fajitas tend to last until the last wraps gone in this house so invariably there's none left the following day. So I make Fajita Pittas. Just as delicious, and actually more portable in foil for lunch on the go.
Simply line the pitta with a little sour cream, then stuff it with your Fajita leftovers. Couldn't be easier!
How To Make Mild Fajitas
This recipe serves 6 (2 adults 4 kids)
Ingredients
Process
Mild Fajita Spice Mix
Not so much of a recipe as a guide, this is the spice mix I use to create a mild Fajita spice mix that even my fussy eater loves!
Simply put your spices in a little jar and mix, then use. I use all this for one batch of Fajitas.
I always mean to make a big batch of this up and keep it in a cute little glass shaker like this. One day….!
More easy mid week meals
Fajitas For Fussy Eaters Recipe (To Print)
Fajitas For Fussy Eaters
Mild Fajitas: Sweet red peppers, slow cooked onions and soft tortilla. Even the pickiest eaters love these!
Ingredients
3

Chicken breasts

butterflied and sliced into thin strips

3

Red peppers

Sliced lengthways

1

Brown Onion

Very thinly sliced

12

Tortilla
Instructions
Get your tortilla dough made and ready to go. If you're using this 2 ingredient dough recipe, get the dough made first, but don't roll it into tortilla yet

Make up your Fajita spice mix

Heat your oil (medium heat) in a large pan, and add your onions. This is the longest part of the recipe. The onions are fussy eater friendly when they're really soft and sweet, so I slice the onions really thin, and then slow cook them for 10 minutes. If your onions are drying out, add 2 tbsp of boiling water to the pan, and this will rehydrate the onions and get them cooking faster

While your onions are softening, roll out your tortilla and get those cooked. This takes minutes and you'll be done before the onions are! Put the cooked Tortilla to one side

Add your peppers to the onions and cook for 5 minutes. Turn the heat up a little and get the peppers and onions frying away now

Add the chicken strips. make sure the chicken is touching the bottom of the pan and not sitting on the onions and peppers, so it can cook faster. Combine it all together and add your Fajita spice mix. Combine it again, making sure the onions, peppers and chicken are all seasoned with the spice mix

Turn the heat down and let the fajita mix sit for a few minutes

Serve the Fajitas in a big bowl or separately to everyone, wraps, fillings and any sides on the table, and tuck in!