* We sometimes use affiliate links, so we may receive a commission, at no cost to you, if you make a purchase through a link. Check our disclosure for more info.
Need a 20 minute meal that's kid friendly?
Here are 12, 20 minute meals that are Kid Friendly, and you can have READY IN 20 MINUTES OR LESS for busy weeknights or when dinner time simply sneaks up on you! Um. Like tonight. And maybe tomorrow tonight.
I'm not gonna lie. 20 minute meals are more of a regular event at our home than not. I am a big fan of fast, delicious meals that are quick to pull together in under half an hour or less. Less is always better.
Healthy dinner recipes
I know dinner time can be hard.
Coming back from work or after school activities often leave you with little time to prep and cook healthy dinners from scratch. Stopping at the local take out seems like the easier option. Thing is, it's not good for your health, waist line or budget.
With a few easy, quick, kid friendly meal planning tips and fast meal ideas, you can get your family eating healthier and save money – in less time that it would take to get through drive through. Just a give it a go for one week.
Grab the FREE 18 Meal Ideas CHEAT SHEET Here!
Quick healthy dinner
But don't worry – just because it's a quick dinner, it doesn't mean you miss out on flavour. Here are 12 of our families favourite 20 minute Dinner Recipes that will please even the fussiest palate. What's special about these recipes? They're full of kid-friendly flavor, no one likes a bland dinner but kids can sometime be…picky, shall we say, about the flavors they'll eat.
These are perfect, and please the whole crowd. And that's a good thing in my book!
Download my FREE Dinner Time Cheat Sheet below, it's really handy and will give you a head start!
Grab the FREE 18 Meal Ideas CHEAT SHEET Here!
12 Super Fast Healthy Dinner Recipes
Here are 12 of our families favourite 20 minute Dinner Recipes that will please even the fussiest palate.
This super fast mid week Chicken Pesto Fettuccine is a winner with kids. The creamy Pesto sauce and tender chicken means clean pates all round! Pesto fettuccine recipe here!
This beautifully colorful Thai inspired dish takes just 15 minutes to out on the table. Get the kids to help with chopping and make it even quicker! Thai Noodle recipe here!
Grab the FREE 18 Meal Ideas CHEAT SHEET Here!
Try these 20 Minute, Hmmm MMMM delicious weeknight soba noodles. Tender strips of chicken, sautéed broccoli and a sweet and tangy noodle sauce. Soba Noodle recipe here!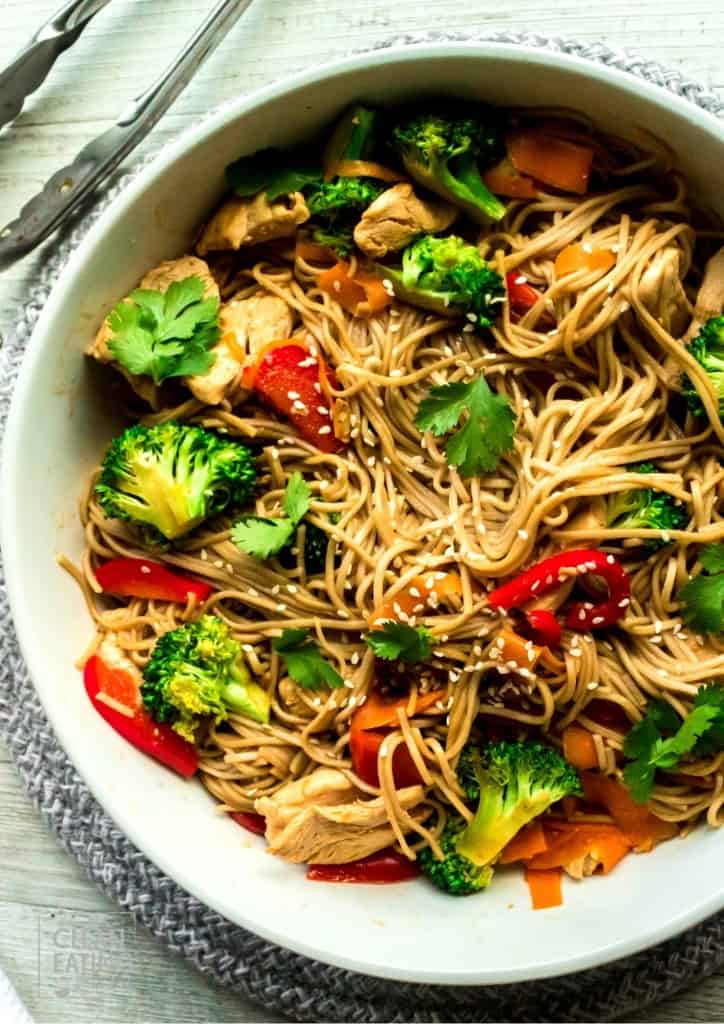 This mild crab pasta dish is the perfect way to get some seafood in their diets. Its fresh, lemony and cheesy. Yum! Crab pasta recipe here.
20 MINUTE CHICKEN PANANG CURRY NOODLE BOWLS
A simple 20 – minute chicken panang curry with noodles and fresh veggies. Perfect for chilly, weeknight dinners!
Easy Better-Than-Takeout Chicken Fried Rice
This easy, one-skillet recipe is ready in 20 minutes. Get it on the table faster than the time it takes to get take out! Oh yes, it tastes better too – And it's healthy! That's a Win/Win no matter how you look at it.
15 MINUTE 5 INGREDIENT SPAGHETTI CARBONARA
The quickest and easiest pasta dish you will ever make with just 5 ingredients. Loaded with Parmesan and crispy bacon – you know it's gonna be a goodie!
15 MINUTE ONE POT LASAGNE
This quick and easy one pot lasagna puts a new spin on the traditional oven baked lasagna and can be made on the stove top in 15 minutes. Kid friendly and mom approved, your whole family will love this.
Recipe Link
20 MINUTE One-Pan Pesto Chicken and Veggies
One-Pan Pesto Chicken and Veggies – boneless, skinless chicken thighs with sun-dried tomatoes, asparagus, cherry tomatoes in a delicious basil pesto sauce.
Recipe Link
ONE SKILLET MEXICAN RICE CASSEROLE
CHICKEN CAESAR WRAPS
Super Easy to pull together using a cooked chicken and salad from the fridge. I make the salad in one large bowl and then spoon it in to the tortilla wrap to get this on the table even faster!
Grilled Chicken BLT Tacos
A little grilled chicken, crispy lettuce, soft tacos, crispy bacon and a healthy dollop of sour cream. Oh my goodness!! Yes please – Let me at it! Give this two ingredient soft and bendy tortilla recipe a go (it's AMAZING!)
Quick family dinners
So, there you have it!
12 new and a little exciting easy recipes for dinner to add to your weeknight meal plan.
The best thing is that you can whip these little beauties up super fast using ingredients you've actually heard of! The next time you're wondering what to fix for dinner (which I think is the reason you are here) – all you have to do it pick one of these!
To see the other posts in this 10 of the Best Meal Prepping Series series, check out the following:
Recent posts