* We sometimes use affiliate links, so we may receive a commission, at no cost to you, if you make a purchase through a link. Check our disclosure for more info.
When isn't it busy when you have kids? Um. Never! So, when I say 20 Easy Dinner Recipes for busy Weeknights, what I really, truthfully mean is: 20 Dinners to Cook when you have kids and need to get that dinner on the table in 20 minutes flat before all hell breaks loose.
And if you only dirty one pot doing it, well that's what I call The best Night Ever! Yes, my expectations are a little low since having 3 kids.
So, in no particular order, here's some inspiration to take the sting out of Mondays, and Tuesdays, and …. well, you get the picture. We're talking, Fast, Easy & Family friendly.
Creamy Garlic & Mushroom Chicken
20 Minute Skillet Chicken & Parmesan (this recipe uses a store bought pasta sauce. Check ingredients to make sure it contains only real food ingredients like tomato and herbs and you've got it covered)
Quick & Healthy Dinner: 20 Minute Honey Garlic Shrimp
20 Minute Broccoli Cheese Soup
20 Minute Creamy Chicken and Mushroom Fettuccine
Gorgeous greek chicken with herby vegetable couscous & tzatziki
Family Sized Pizza (using Rotisserie Chicken & Homemade 2 Ingredient Pizza Dough)
Meal on a Stick: Beef & Vegetable Kebabs
15 minute garlic lime cashew zoodles (I make quite a few changes to this recipe when making it for my family – I use standard wholewheat fettuccine or rice noodles because I don't have a spiraliser and I also purchase ready shredded carrot and cabbage veggie mix in a bag – as a fast food option).
Chicken and Noodle Stirfry (We make this at least twice a month)
Chicken and Mushroom Bake. To make this recipe go a little faster (I get it down to just on 25 minutes) I cook the entire dish on my stove top. So I cut the chicken pieces into thinner strips and instead of baking in the oven for 45 minutes, I allow to simmer in the pot for 10 -12 minutes until chicken is cooked through. Serve with steamed vegetables for a super tasty dinner.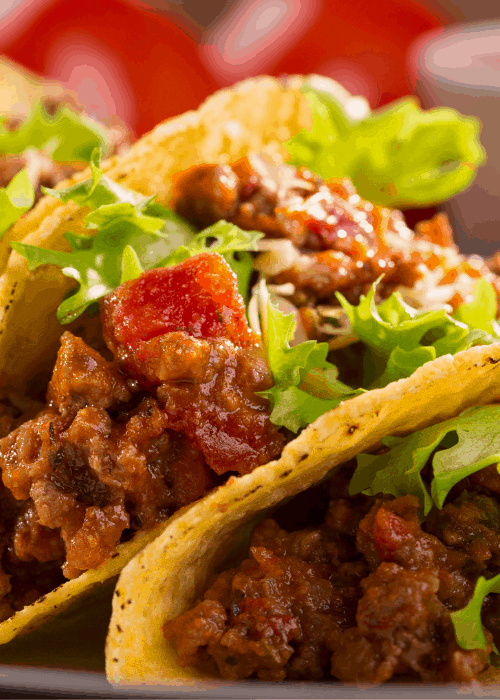 Hamburgers, baby. Pop all the ingredients on the table and let the kids make their own. Top with a creamy mushroom sauce for the best burger ever.
Pan Grilled Tortillas You can add anything to these as long as you include cheese: some of our combinations are: chicken, cherry tomatoes, cheese | ham, tomato, mushroom, pasta sauce and cheese (tastes like pizza) | shredded chicken, Avocado and cheese | You are only limited by your imagination.