* We sometimes use affiliate links, so we may receive a commission, at no cost to you, if you make a purchase through a link. Check our disclosure for more info.
It's been a little chilly this week and the Kids and Hubby are coming home ravenous. I'll be cooking some good ol' fashioned dinners that can be prepped quickly and popped in the oven or slow cooker to finish the work (so I don't have to). Hot and tasty casseroles, hearty, healthy pies and plenty of left overs for next day lunches.
---
Find more Meal Planning Tips here:
---
How I meal plan
Sunday is my Meal Planning Day. I choose seven Dinner Recipes, three Breakfast options and the two Baking recipes I'll be making for the week. You can read more about how I meal plan here.
I pack lunches for the family Monday to Friday and use my Mix and Match Lunchbox Planner to make this a little easier (you can get it for Free here).
I bake once or twice a week to keep stocked up on school lunchbox treats and after school snacks.
The Recipes I make are healthy, real food recipes made from whole food ingredients. I don't exclude any particular food groups, but I do limit sugar and dairy when possible as my eldest daughter is lactose intolerant.
I cook from scratch as much as I can but try and keep prep time to a minimum (preferably under 30 minutes).

MONDAY
Chicken & Vegetable Casserole –  A Classic, country style Dinner with plenty of vegetables and thick, tasty gravy. Served on top of Brown Basmati Rice or Quinoa (for a gluten free option). You can jazz this recipe up by adding a super simple wholewheat pie crust and turning it into a rustic, wholesome chicken and vegetable pie.
  Find Country Chicken And Vegetable Casserole Recipe Here.
TUESDAY
Creamy Fish Pie with Sweet Potato Topping – A Healthy twist on a traditional fish pie. I usually choose standard potato mash as a topping but this week we will be giving sweet potato a little try.
  Find the Healthy Fish Pie recipe here.
WEDNESDAY
Tray Bake Pizza –  We have a big family, so rather than making a whole lot of smaller pizzas, I like to make one large pizza in an oven tray and top with two (or three) types of toppings on each half. The pizza crust is a super easy, two ingredient pizza crust which is INSANELY AMAZING!!! You can whip up your own pizza base in around a minute. Then, simply top with pizza sauce, cheese and toppings and pop your gigantic, pull apart family friendly pizza into a hot oven. This is a fast, healthy pizza that will get you that 'Wow Mom' at the dinner table.
  Find the Oven Tray Pizza (with two ingredient pizza dough) Recipe Here.
THURSDAY
15 Minute Thai Coconut Noodle Soup  – This had me at '15 MINUTES'. I'm so making this!

  Find 15 Minute Thai Coconut Noodle Soup here.
FRIDAY
Slow Cooker Beef Ragu with Pappardelle  – How happy would the family be when they come home to this?
  Find the Beef ragu with pappardelle Recipe Here.
SATURDAY
Beef & Vegetable Kebabs  – We are lighting that BBQ on Saturday afternoon. Rain or shine. I don't care. I'm already looking forward to sitting down beside a wood burning fire, sipping a whisky and watching these kebabs cook slowly on the grill. You can make them early on in the day so your evenings are prep free. OR… and this is a much better option … cut up all the meat and veggies and get the kids to thread them on the kebab sticks. It's an all in one meal and washing up involves throwing your wooden kebab stick in the fire.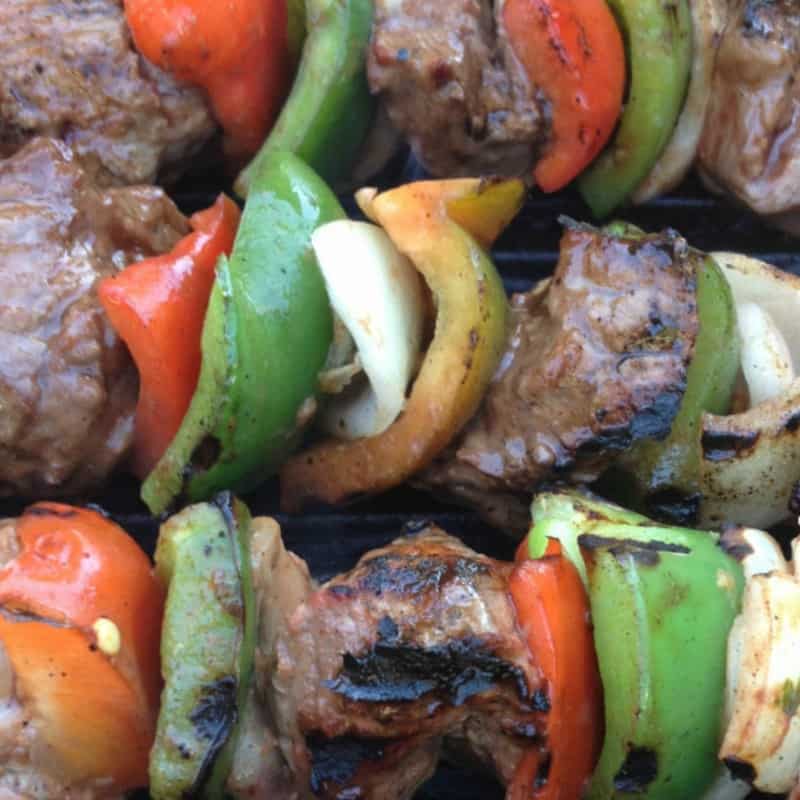 SUNDAY
Roast Chicken  – Sunday is Roast Day round here. Perfectly crispy Roast Chicken, Crunchy Roast Potatoes, Honey Glazed Carrots all smothered in a delicious Chicken gravy. Oh my goodness me.

  Find How to Make a Roat Chicken like Grandma Here.

I shop and plan for THREE Breakfast options during the week. I try to make these easy enough to pull together on a school morning too. I also always have wholewheat bread in the fridge (keeping it cold stops mold developing) and eggs (our feathered flock keep us well stocked) in case someone feels like getting out the frying pan.
Creamy Oatmeal with Cinnamon and Honey  – Creamy Oats are a classic, standby most weeks. The trick is to put a pot of oats on early so that they can simmer for at east 15 – 20 minutes. This softens the oats and gives it a smoother, creamier consistency. Top with a little maple syrup and sliced fruit for a delicious tummy warming breakfast.

  Find Wholegrain Oats Here.
Puffed Wheat Cereal

  Find Clean Eating Puffed Wheat Cereal Here.
Peanut Butter Granola  – Real Food Rule #1. Always keep a jar of Granola in the pantry. This is the most convenient Recipe. Aside from being a quick, healthy breakfast, option, you can use it as a base for cheesecake, topping for apple crumble, layer it in a breaky parfait or add it to a breakfast smoothie. This Peanut Butter Granola is my family's favorite Granola Recipe.

  Find the Peanut Butter Granola Recipe Here.
Baking
Ginger Ninja Biscuits  – Make a double batch of these Ginger Ninjas. They are sweetened with date puree which gives them a dense, chewy texture. I like to make them a little bigger than a standard biscuit when I make them for school lunches because they just look awesome.

  Find the Ginger Ninja Recipe Here.
Superfood Energy Bars  – I swear these are always baking in my oven. Energy Bars packed with nuts and seeds are brilliant for after school snacks and when you're packing 5 lunch boxes every morning before 7am, it makes the job a whole lot easier.

  Find the Superfood Energy Bar Recipe Here.
WHAT IS ON YOUR MEAL PLAN THIS WEEK?
I would truly love for you to share your family's weekly meal plan or favorite healthy Dinner Recipes. Either Comment below (or email me recipes and  photos too if you can), I'll pick one to test and share every few weeks. If you are a Blogger, then please remember to share your website and link to the original recipe on your blog.