* We sometimes use affiliate links, so we may receive a commission, at no cost to you, if you make a purchase through a link. Check our disclosure for more info.
Coming up with an idea on 'What to have for Dinner' 365 days of the year can be mind numbing. MIND NUMMMMMBINGG!!! Use these 31 Theme Night Dinner Ideas to take the sting out of deciding what to feed your family every, single darn night.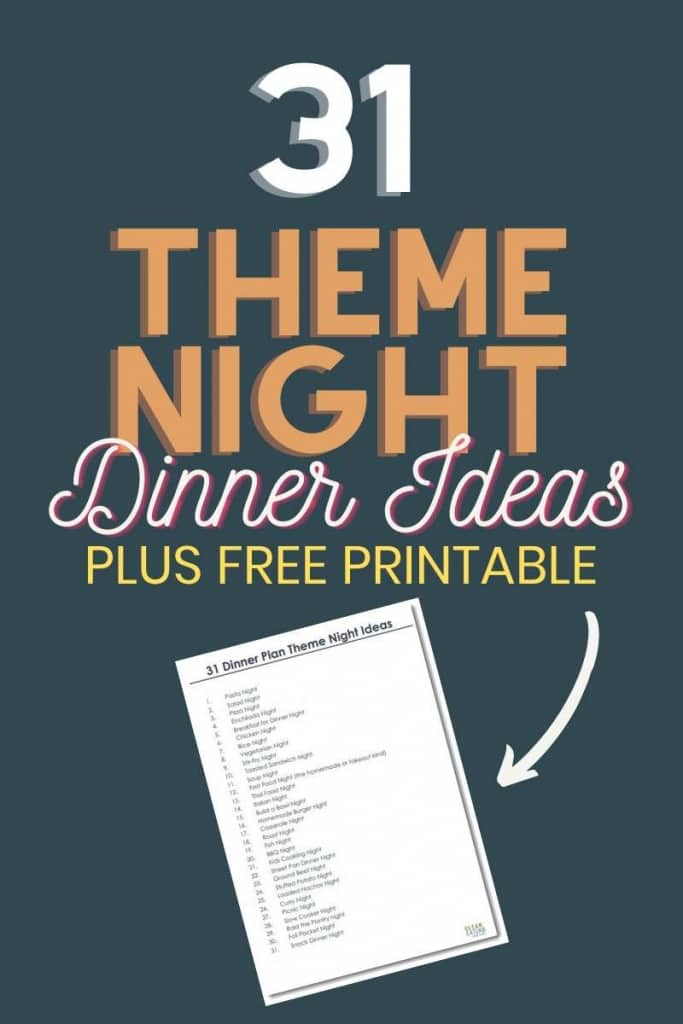 Grab the FREE 18 Meal Ideas CHEAT SHEET Here!
Food Theme Nights
Allocating a Theme to family dinners is one of the easiest Meal Planning Strategies. It's a great basic place to start if you've not done Meal Planning before or you find yourself regularly overwhelmed by that wonderful 'What's for Dinner' question.
It's a simplified meal plan that batches dinner ideas and streamlines the Dinner decision making process.
Because it's hard deciding what to make for Dinner EVERY NIGHT!
And then you add Teenage girls, Gluten issues, homework (and I thought I was done with Calculus), fussy eaters and husbands to the mix … breathe, just breathe…
Themed Dinner Nights
How do themed dinner nights work? They're really quite simple once you get into it and take a lot of the stress away of having to make a decision about…what on earth you're going to have for dinner.
How to do themed dinner nights

Allocate a 'Themed Dinner idea' to each day of the week. 
Scroll down for 31 Theme Night Ideas and pick the SEVEN that you feel will work for your family. 
On the Theme night, you only cook recipes that fit in that Theme. 
Take your Dinner plan for a spin and see how it works. Keep those that work for you and replace the ones that don't with something new.
Here is an example Weekly Theme Night Dinner Plan
Monday – Pasta Night
Recipe Ideas:
Tuesday – Casserole night
Recipe Ideas:
Wednesday – Sheet Pan Dinner
Recipe Ideas:
Thursday – Stirfry
Recipe Ideas
Friday -Homemade Pizzas
Recipe Ideas
Saturday – Barbecue & Salad
Recipe Ideas
Sunday – Roast and Veggies
Recipe Ideas
How Easy is that?
But that's just the beginning. Here are 31 theme night dinner ideas to try over the next month.
Fun Dinner Themes For Families
Getting the whole family on board for a dinner theme night can be super fun. It takes the boredom out of the same old dinner time routine. You know the one, you cook, then try and get everyone round the table, then try and convince them to eat, then stress because they're not eating as much as you'd like, and you know, you spent time cooking.
Having a theme changes this. It makes dinner time exciting and something for the kids to look forward to. Get them to help you out, ask for their ideas for how you could add to the theme (perhaps get the little ones to color in a flag printable if it's say, Italian night. Educational too…Yep, genius!).
I've even had the little ones (oddly, big kids tend to decline this suggestion :)) dress up for theme dinner nights. We've done a Cowboy dress up for dinner (think Stetson hats) and French (stripes and onions. Stereotypical? Yep.) You get the idea.
Try it, it's surprising how much the kids enjoy this and eat their dinner, being all caught up in the theme. It works!
Fun Dinner Ideas For Family Night
On weekends and holiday times, I love to combine a dinner theme night with movie night and tie the two together. So for Italian night we'll cook an Italian inspired meal, maybe a Spaghetti Bolognese or Oven baked Italian Chicken, and then get the kids to find and choose and Italian movie to watch after dinner.
You can be a little flexible here, it's a tough call to find a movie based around Vegetarian night, for example :)
Theme Nights For Kids
Smaller kids LOVE theme dinner nights. They love them. They ask for them all the time, they get excited about them, and they can turn dinner time into an event.
I like to involve them as much as I possibly can and have found that getting them to help out increases my chance of having them eat their dinner hugely. Get them to help you choose the themes from the list below. Once they've chosen a theme they like, they can then find meals to fit the theme.
If themed dinner nights is not something you've done with your kids, please try them. You're in for a treat!
Theme Night Dinner Ideas
Here are 31 Theme night ideas to help you plan your Dinners. Remember to pick 7.
Don't pick too many at one time, because that's going to complicate things. The goal of this Meal Plan Strategy is to make things EASIER.
(PRINT OFF THE THEME NIGHT LIST HERE)
Pasta Night
Salad Night
Pizza Night
Enchilada Night
Breakfast for Dinner Night
Chicken Night
Rice Night
Vegetarian Night
Stir-Fry Night
Toasted Sandwich Night
Soup Night
Fast Food Night
Thai Food Night
Italian Night
Build a Bowl Night (Buddha or Don Buri Style)
Homemade Burger night
Casserole Night
Roast Night
Fish Night
BBQ Night
Kids Cooking Night
Sheet Pan Dinner Night
Ground Beef Night
Stuffed Potato Night
Loaded Nachos Night
Curry Night
Picnic Night
Slow Cooker Night
Raid the Pantry night
Foil Packet Night
Snack Dinner Night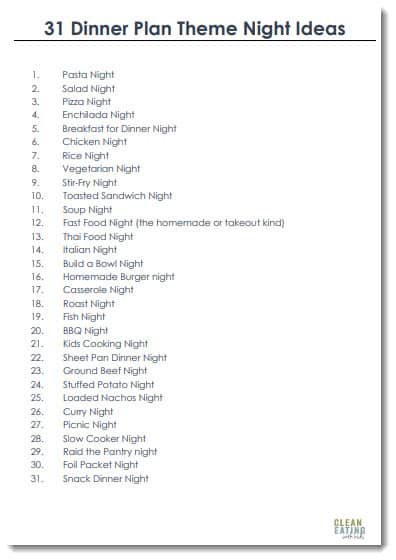 Looking for more help with meal planning?