* We sometimes use affiliate links, so we may receive a commission, at no cost to you, if you make a purchase through a link. Check our disclosure for more info.
As a Mom, you don't want to see your kids leave for school with an empty stomach, so it's easy to turn a blind eye to the unhealthy snacks they choose to eat as they leave the house in the morning. These 9 Easy Clean Eating Breakfasts will change all that.
Grab the FREE 18 Meal Ideas CHEAT SHEET Here!
Clean Eating Breakfasts
If your house is anything like mine (read: slightly, very (?!) chaotic) then breakfast is less of a time for lovingly crafting recipes as it is making sure the kids have had something decent to eat before they run out of the door. So I need breakfast to be easy. Like, really easy.
If I'm on my Mom game and have managed to organize or think about breakfast the night before, we're good. This happens rarely. I don't know why. I feel so much better when I manage to be organized. But hey…at my age, this is just me :)
Breakfast ideas are good. They're great. And these ones are about to make breakfasts in your house much easier!
What Can You Eat For BreakfastWhen You're Clean Eating?
So, kids boxed store bought cereals are out in this house. Gone, gone, gone. As are sugary chocolate spreads, non homemade jams and breakfast pastries. All of which are more candy treat than nutritious breakfast.
So what's left? Well, if you're new to Clean eating, it's possible you feel like I just took all your kids breakfast options away. My kids felt the same way.
The good (great!) news is that I've opened the door to a huge variety of Clean eating breakfasts, there's even a Clean version of Coco Pops here too (read about why we didn't totally quit sugar), and these breakfasts are going to set the kids up for the day, without leaving them with a sugar crash right around 10am.
Grab the FREE 18 Meal Ideas CHEAT SHEET Here!
Meal Prepping Makes Breakfast Time Easier
Meal prepping for the week makes eating a healthy breakfast easy.
We like to prep 2-3 breakfast options for the week. Ideally, these are things that are either prepped ahead on the weekend (like muffins, granola or slices) or can be made in as little as 2 minutes in the morning.
I have added a few of our fast favorites and also a couple of our weekend breakfast options for when we have a bit more time to be indulgent.
More Breakfast Ideas
Can You Eat Oatmeal When Clean Eating?
Yes! We love Oatmeal and have it a lot. It's an easy, quick, filling breakfast and there lots of things you can put with it or have it alone.
Me? Peanut butter and oatmeal makes me happy. The kids like some honey, or cocoa. Oatmeal for breakfast takes as much time to make as pouring cereal from a box. When all else fails, grab the oatmeal. I use this one, and can verify it's scrummy! And it doesn't turn to mush like many do.
Is Peanut Butter Clean Eating?
Yes and no, depending on the peanut butter you buy.
The vast majority of store bought peanut butters are not Clean. The contain many ingredients, most of which very few of us actually know what they are. You'll usually find corn syrup (gulp!) near the top of the list, just before numerous oils and acids.
Peanut butter should have one ingredient. Peanuts. A little added salt is fine. Nothing else.
Some peanut butters you can get from the store are clean. This one from Trader Joes is clean, as is Mara Natha peanut butter, and there are others. But… they're hard to find in your regular store.
And anyway, peanut butter is SO easy to make. It has one ingredient: Peanuts.
It can be difficult to get the kids to eat a healthy breakfast before heading off to school. If your kids are anything like mine, then I bet they allow a measly, and inadequate 5 minute breakfast window.
Regardless of the time they get up, breakfast always seems to give way to hair brushing, last minute homework and sibling squabbles.
All of these 9 Clean Eating breakfast Recipes can be prepped on the weekend or pulled together really quickly on a school morning. The last thing I want to do is make your weekday morning hard.
Make ahead a batch of these and you wont have to remind the kids to eat breakfast. My quick and easy clean eating cocoa pops remake takes around three minutes to make, tastes almost exactly the same as the big brand but with only 4 whole food ingredients and a smidgen of unrefined sugar.
Clean Eating Chocolate Bubbles
A tasty, family friendly Green Smoothie to kick start the morning, get the brain boosted and metabolism rocking! Naturally sweet, delicious & it happens to be really good for you.
Get the Recipe: Green Morning Smoothie
An Easy Veggie Packed Clean Eating Breakfast that you can literally throw together in a couple of minutes and let the oven do the rest of the work.
Get the Recipe: Clean Eating Spinach and Feta Crustless Quiche
Honey Nut Granola. Even the name sounds as delicious as it tastes. Serve it up instead of boxed breakfast cereals for a fast and easy school morning breakfast.
There are only two things to solve any breakfast dilemma. One is toast. And the other is Avocado.  Which gives you … drum roll please …. Smooshed Avocado on Toast. Smooshed by the way, is actually a word. I looked it up :)
These are the best baked beans you will ever, ever eat. And I'm not over promising here. They are awesome! Prep a batch on the weekend and keep in a tupperware in the fridge. Kids can spoon out and reheat a serving for a fast breakfast. If you have an extra couple minutes – top it with an egg. OMG!!
There are very few things that can top chocolate.
Ask my girls and they will back me up on this. The boys prefer pizza, meat and… well. Actually that's pretty much as far as their list goes. 
But the girls; we like chocolate. We like chocolate. A lot. And this Creamy Chocolate Oats is no exception.
Get the Recipe: 5 Minute Creamy Chocolate Oats
Smoothies are the best. 2 minutes to make. 30 seconds to drink. And if you're lucky (and I am), the blender fits in the dishwasher.
I had to add this one because it's so flippin' easy to make. We have chickens so any excuse I have to use up their eggy bounty, I'll take it. Especially during laying season – because I am over run with eggs.
Those girls are taking their job really seriously right now. MOM TIP: Keep a good quality seed or wholewheat bread in the freezer for making toast.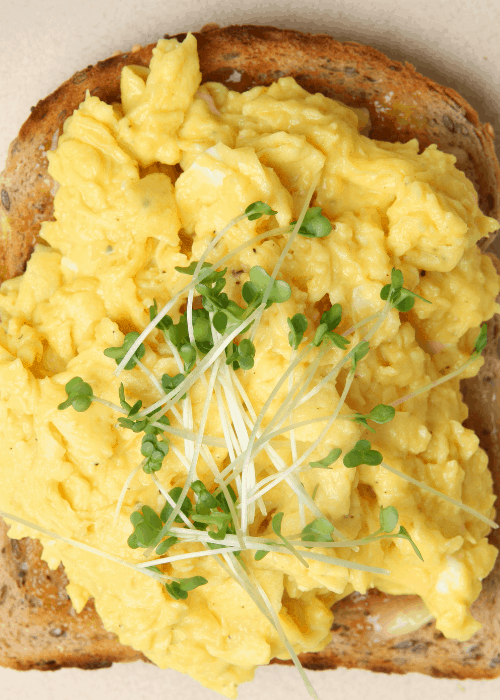 More Clean Breakfasts
Three Ingredient Banana Pancakes
These Three Ingredient Clean Eating Banana Pancakes are quick and easy to make. Dairy free and Delicious! The perfect way to start the weekend.

Get the Recipe: Three Ingredient Banana Pancakes
Pumpkin Spice Pancakes
Delicious, sweet and spongy Pumpkin Spice Pancakes with Maple Syrup and Mixed Berries. A reason to look forward to fall. This amazing breakfast recipe will fool the fussiest child (or adult) into eating pumpkin with pure delight.

Get the Recipe: Clean Eating Pumpkin Pancakes
If you're looking to learn more about Clean Eating as a family, either as a general healthy eating lifestyle or are looking to help your family lose a little weight naturally and easily, then join our 7 Day Clean Eating Family Challenge.
See how easy it is to stick to Clean Eating.
And yes, if you're wondering if it's something the kids can do too?
The answer is Hell yeah! Check out the food you eat on our Free 7 Day Clean Eating Family Challenge and get your family on board eating wholesome, nutrient rich foods every day. Yup! Even the fussiest kids – I have two of those:).
Be sure to Subscribe to our newsletter, like our Facebook page, and follow us on Pinterest for tasty recipes, clean eating tips, and healthy family resources.  For more delicious and nutritious recipes from Clean Eating with Kids, check out all our family friendly Clean Eating Recipe here.
Related Post: How to Meal Prep for Beginners {PLUS FREE Meal Planning PRINTABLE}